GlareControl – More controlled light, less glare
BASF GlareControl film combines glare reduction with highest aesthetical optics in one endless and truly seamless product.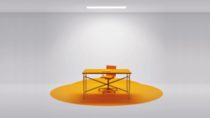 The invisible patterns reduce glare in angles above 65° and increase light intensity in lower angular ranges.  That leads to improved efficiency and UGR-ratings of your luminaire body, making it ideal for office lighting applications. Suitable for applications with UGR<19 requirements.
>7000 lm
Luminous flux with UGR <19 for Lambertian-like input into foil of 58x58 cm²
Key properties and features
Reduces visual glare and improves Unified Glare Rating (UGR)
Helps luminaires comply with DIN EN 12464 glare specification
Endless and truly seamless glare control film
Pattern invisible to the eye for high aesthetics
Customizable in length, width and thickness
High quality lamination on glass, PC or PMMA possible